1 / 3
2 / 3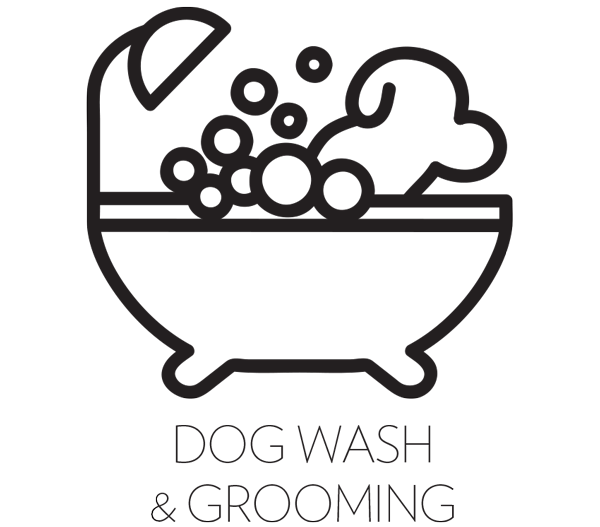 DOG DAYCARE
PLEASE NOTE: We've reached our big doggo enrolment limit.
We're not currently accepting enrolment of new dogs over 20kg dog day care. Apologies for any inconvenience.

Toy, Small and Medium doggos under 20kg (fully grown) still all welcome to enrol.
FUN, SOCIALISATION AND EXERCISE
Is your dog at home all day during the day? Break up their week or day by bringing them in to stay with us :)
We offer a boutique daycare service, with limited places each day to ensure we can maintain the utmost level of supervision at all times.
Socialisation and exercise are essential to your dog's overall well-being and as such, a day with us in daycare is a day full of fun, exercise and social interactions with other friendly dogs. A great day minding option for friendly dogs of all ages.

Our highly experienced and qualified carers will be around to stimulate, enrich and supervise the social interactions the dogs have with each other at all times. We provide all of the cuddles, belly rubs, games and guidance to help your dog socialise and improve its social skills with other dogs in a fun and safe manner.
Park walk included
A group walk in a local park included for full day and morning half day care. We tailor the walking experience according to your dog, pairing them up with their best friends in that day, either to Sydney Park or a local fenced park according to their off leash training level.
On their walk we will continually reinforce their recall training, and they will enjoy some fresh air, sniff about, frolic in the grass, toilet and have a fun little adventure with their friends.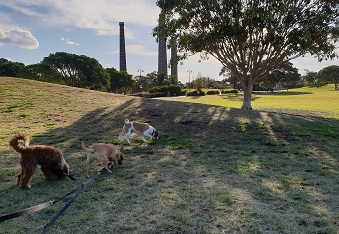 Service & Facility
Wellness checks are conducted throughout the day and we will provide feedback to you as needed if there is anything to address.

Our day care space is set up with couches and play gym in an open plan layout. We generally have the space as one big open area, but can separate the space with a dividing fence if it is ever needed. We even have a quiet area for those who just need a little break or need to take a nap.

We will always work on continuing your dog's basic training skills throughout their play sessions to ensure they are equally mentally and physically stimulated during their stay helping to learn positive behaviours.

We have extended opening hours from 7.30am to 6.30pm so that you can drop your dog in on the way to work or the train station, and easily pick up after work in time for dinner.

If needed we can offer a kerbside pick up and/or drop off service in the immediately local area. In order to keep the dogs on the road for the least time possible, we unfortunately will only be doing kerbside pick ups and drop homes. Click here for details.
Behavioural & vaccinations
Safety is our number one priority. As such, we are very selective when it comes to accepting dogs in our care. All dogs over 6 months are required to pass a social evaluation which helps us ensure your dog is a good fit for daycare. As we take in all good dogs, it is important that dogs in our care know how to behave appropriately with all breeds, sizes and ages.

We require vaccination records from your vet to be uploaded to our booking system prior to your pet's first day showing current C5 vaccinations, including the Kennel Cough vaccine.

All female dogs must be desexed by 6 months or their first cycle, whichever comes first. We are a bit more leanient with timing for boys but if there is any excessive humping or any aggression behaviours due to being entire, we may not allow your dog to come back until it is desexed.

See our FAQ. for more details.
DOG GROOMING, DOG WASH & TIDY
A RANGE OF SERVICES TO IMPROVE YOUR DOGS APPEARANCE, ODOR AND GENERAL CUDDLABILITY
Has it come time for a full groom and clip off? or perhaps you just need a bath? Book them in! We even do maintenence cuts and tidy ups as needed.
We offer a range of grooming and dog washing services to suit all breeds and styles including breed specific cuts and coat maintenence.

All of our grooming services start off with a deep clean in our dog hydrobath. A hydrobath is a specially designed dog bath with a powerful circulation pump that really foams up the shampoo and gives a deep clean to all layers of the fur.
If your dog has any special requirements or shampoos needed to be used due to a skin condition, feel free to bring them in for us to use on your dog when dropping them off.

No bath is complete without a blowdry and brush to remove all of the loose hair and sort out any loose knots!
After the bath and blow dry, we being to work on getting your dog's coat into top shape according to your requirements.

See our full grooming price list for more details.

After your groom be sure to read our Grooming after care and coat maintenance guide .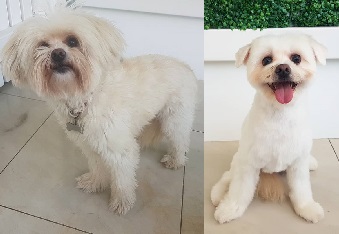 PUPPY SCHOOL AND OBEDIENCE TRAINING WITH EAZY DOG TRAINING
Puppy School
- Run by experienced and professional dog trainers
- Positive dog training methods only
- 4-week puppy school for $249 includes a free training pouch, clicker and access to a very comprehensive online puppy school!

Classes include:
- Daily manners and basic obedience
- Common puppy issues such as toilet training, biting, separation anxiety, chewing, digging, jumping up etc.
- Socialisation education and desensitisation training
- Playtime with other pups
- Owner education on canine language, puppy's point of view and general dog training



BASIC OBEDIENCE
- Suitable for all dogs, no matter the breed, age or skill level.
- Training includes: impulse control, engagement, calming down and focus exercises, basic obedience training and everyday manners.
- Every 4-week basic obedience class for $229 includes a free training pouch and clicker!

Owner Will Learn:
- Dog training in general, how to add difficulty in training gradually and how to ensure success when working towards their goals.
- How to better control their dog around distractions
Dog Will Learn:
- Basic obedience commands & manners and engagement with you around distractions.
- Self-control and discipline
- Calm greeting manners and distraction training
Sit: This is something every owner generally teaches their dog. But very often the training is unfinished ending up with a dog who can only sit for a little while, with a treat or when using a hand signal. I'll teach you how to keep control of your dog, no matter the situation, using this basic command.
Down: Lying down makes a dog more relaxed and calm. This is a helpful command when you need to stay somewhere longer and you want your dog to calm down and wait.
Stay: Teaches your dog to remain still, calm, and in one place. A very helpful command for many situations.
Come: This is one of the most important commands, and often struggled with. Recall should get your dog to come to you immediately upon your command. You should begin to teach this command to your puppy as soon as they recognise their name. This command could potentially help you protect your puppy from harm.
Heel: Teaches your dog to stay close to you as you walk, with or without a lead. Very useful when passing something you don't want your dog to get interested in.
Leave it: An excellent command to use when you encounter something you don't want your dog to touch. It takes a lot of focus and willpower from your dog especially when you want them to leave food. But when mastered, it is very impressive command!
Impulse Control, Calming Down and Focus Exercises: My opinion as a professional dog trainer in Sydney is that most dog-related issues can be fixed with impulse control and focus. Dogs too need to learn that life isn't just about fun and games. But this needs to be done in a way that allows them to learn new behaviours. From the dog's point of view that is! We'll train: ignoring distractions, calming down while tied up and doing nothing, mat training and waiting patiently until released.


Book now at

www.eazydogtraining.com
DOG DAY CARE SHUTTLE BUS
WE OFFER A (CONTACTLESS KURBSIDE PICK UP) PICK UP AND DROP OFF SERVICE TO THE IMMEDIATELY LOCAL AREA.
Servicing the the immediately local suburbs surrounding our dog day care facility in St Peters, we offer a kerbside early morning pick-up and evening drop home service.

Our purposely fitted out dog day care shuttle bus is roomy and air conditioned in all sections from the front to the very back, with separate sections and secure attachment points ensuring their trip is comfortable and safe.

To keep the dogs in van for the shortest time possible and not left unattended during their trip, we only offer a kersbide pick-up and drop home service.
This means we unfortunately can't go up into your apartment to pick up your dog. If you live in an apartment we will just need you to meet us at the entrance to your building or on the street where it is safe to do so.
Thanks for understanding.

Early morning pick-up - Please book by COB the day before for the following morning.
Pickup time is 6.45-7.15am (Mon-Fri)

Evening drop home – Please book before 4pm.
Drop home time is 6.30-7.15pm (Mon-Fri)

*Specific drop home or pick up times within our specified time frames are not usually possible, please get in contact to arrange a suitable time for drop off.

No middle of the day pick up or drop off available.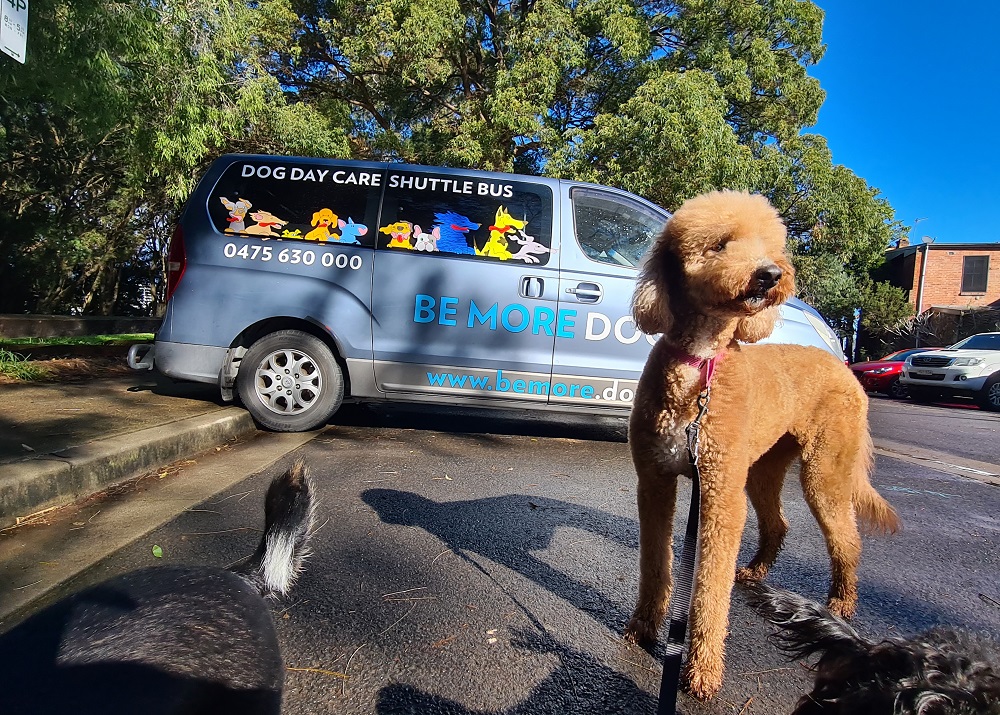 PRICING
Full day of dog day care
(includes 1 walk)


$60.00
7.30am to 6.30pm

Half day care - Morning
(includes 1 walk)
$40.00
7.30am till 1pm



Half day care - Afternoon
(no walk)
$40.00
1pm till 6.30pm


Hourly day care
(existing customers only)
no walk


$10.00
Per Hour

5 full day care pass
$285.00
7.30am to 6.30pm


10 visit full day care pass
$540.00
7.30am to 6.30pm


| | | |
| --- | --- | --- |
| Erskineville, St Peters, Newtown, Enmore, Tempe, Sydenham | According to time & distance | $8-15.00 each way |
| Marrickville, Alexandria, Camperdown | According to time & distance | $10-$15 each way |