DOG DAYCARE
PLEASE NOTE: We've reached our big doggo enrolment limit.
We're not currently accepting enrolment of new Large and XL doggos for reoccurring day care bookings. Apologies for any inconvenience.

Toy, Small and Medium doggos still all welcome to enrol.
FUN, SOCIALISATION AND EXERCISE
Is your dog at home all day during the day? Break up their week or day by bringing them in to stay with us :)
We offer a boutique daycare service, with limited places each day to ensure we can maintain the utmost level of supervision at all times.
Socialisation and exercise are essential to your dog's overall well-being and as such, a day with us in daycare is a day full of fun, exercise and social interactions with other friendly dogs. A great day minding option for friendly dogs of all ages.

Our highly experienced and qualified carers will be around to stimulate, enrich and supervise the social interactions the dogs have with each other at all times. We provide all of the cuddles, belly rubs, games and guidance to help your dog socialise and improve its social skills with other dogs in a fun and safe manner.
Park walk included
A group walk in a local park included for full day and morning half day care. We tailor the walking experience according to your dog, pairing them up with their best friends in that day, either to Sydney Park or a local fenced park according to their off leash training level.
On their walk we will continually reinforce their recall training, and they will enjoy some fresh air, sniff about, frolic in the grass, toilet and have a fun little adventure with their friends.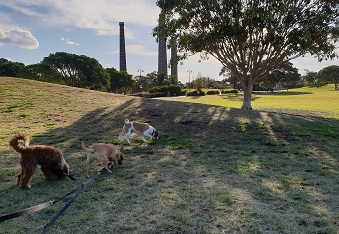 Service & Facility
Wellness checks are conducted throughout the day and we will provide feedback to you as needed if there is anything to address.

Our day care space is set up with couches and play gym in an open plan layout. We generally have the space as one big open area, but can separate the space with a dividing fence if it is ever needed. We even have a quiet area for those who just need a little break or need to take a nap.

We will always work on continuing your dog's basic training skills throughout their play sessions to ensure they are equally mentally and physically stimulated during their stay helping to learn positive behaviours.

We have extended opening hours from 7.30am to 6.30pm so that you can drop your dog in on the way to work or the train station, and easily pick up after work in time for dinner.

If needed we can offer a kerbside pick up and/or drop off service in the immediately local area. In order to keep the dogs on the road for the least time possible, we unfortunately will only be doing kerbside pick ups and drop homes. Click here for details.
Behavioural & vaccinations
Safety is our number one priority. As such, we are very selective when it comes to accepting dogs in our care. All dogs over 6 months are required to pass a social evaluation which helps us ensure your dog is a good fit for daycare. As we take in all good dogs, it is important that dogs in our care know how to behave appropriately with all breeds, sizes and ages.

We require vaccination records from your vet to be uploaded to our booking system prior to your pet's first day showing current C5 vaccinations, including the Kennel Cough vaccine.

All female dogs must be desexed by 6 months or their first cycle, whichever comes first. We are a bit more leanient with timing for boys but if there is any excessive humping or any aggression behaviours due to being entire, we may not allow your dog to come back until it is desexed.

See our FAQ. for more details.