DOG GROOMING, DOG WASH & TIDY
A RANGE OF SERVICES TO IMPROVE YOUR DOGS APPEARANCE, ODOR AND GENERAL CUDDLABILITY
Has it come time for a full groom and clip off? or perhaps you just need a bath? Book them in! We even do maintenence cuts and tidy ups as needed.
We offer a range of grooming and dog washing services to suit all breeds and styles including breed specific cuts and coat maintenence.

All of our grooming services start off with a deep clean in our dog hydrobath. A hydrobath is a specially designed dog bath with a powerful circulation pump that really foams up the shampoo and gives a deep clean to all layers of the fur.
If your dog has any special requirements or shampoos needed to be used due to a skin condition, feel free to bring them in for us to use on your dog when dropping them off.

No bath is complete without a blowdry and brush to remove all of the loose hair and sort out any loose knots!
After the bath and blow dry, we being to work on getting your dog's coat into top shape according to your requirements.

See our full grooming price list for more details.

After your groom be sure to read our Grooming after care and coat maintenance guide.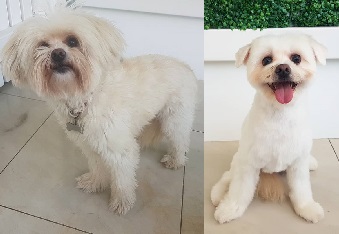 FULL GROOM PRICE LIST
| | | |
| --- | --- | --- |
| Toy | up to 4kg | $75.00 |
| Small | 4-9kg | $85.00 |
| Medium | 9-15kg | $95.00 |
| Large | 15-24kg | $110.00 |
| Extra Large | 24-29kg | $130.00 |
| Giant | 30kg+ | $150.00+ |
| | | |
| | | |
| | | |
| --- | --- | --- |
| Toy | up to 4kg | $90.00 |
| Small | 4-9kg | $100.00 |
| Medium | 9-15kg | $110.00 |
| Large | 15-24kg | $150.00 |
| Extra Large | 24-29kg | $180.00 |
| Giant | 30kg+ | $210.00+ |
| | | |
| | | |
| | | |
| --- | --- | --- |
| Toy | up to 4kg | $90.00 |
| Small | 4-9kg | $100.00 |
| Medium | 9-15kg | $110.00 |
| Large | 15-24kg | $150.00 |
| Extra Large | 24-29kg | $180.00 |
| Giant | 30kg+ | $210.00+ |
| | | |
| | | |
| | | |
| --- | --- | --- |
| Cutie Marks | Temporary colour | $10.00 |
| Cutie Marks | Semi Permanent colour | $20.00 |
| Ears & Tail | Temporary colour | $10.00 |
| Ears & Tail | Semi Permanent colour | $20.00 |
| Mohawks | Temporary colour | $10.00 |
| Mohawks | Semi Permanent colour | $20.00 |
| Nail Polish | various colours available | $10.00 |
| Etchings | shaved into coat | $20.00 |
| | | |
| --- | --- | --- |
| All breeds | All sizes | $80.00 per hour |
| | | |
| | | |
| | | |
| | | |
| | | |
| | | |
| | | |
| | | |
| --- | --- | --- |
| Dematting | not more than 30 mins | $10.00 per 10 min |
| Teeth Clean | all sizes | $25.00 |
| Anal Glands | All sizes | $20.00 |
| Ear Plucking | All sizes | $15.00 |
| Shave Pads | All sizes | $15.00 |
| Pelted dog charge | | Priced upon case |
| Aggressive dog charge | | Priced upon case |
| | | |
| | | |